About Able Governance
Mention the word 'pensions' to most people and they immediately glaze over or change the subject. What they don't see is the intellectual challenge of dealing with complex issues that are constantly being altered due to changing laws and regulations.
The complexity in pensions is mainly due to the layering of pensions laws on top of old laws: understanding how the old laws may still impact on current pension schemes is one of the keys to ensuring that a scheme is run properly. This knowledge is hard won, and new trustees face an uphill struggle in understanding the forces and influences at work.
Able Governance has a combined total experience of approximately 50 years in corporate pensions and trustee roles and is well placed to help your trustee board or governance committee to implement best practice, and to help implement the new Workplace Pensions and auto enrolment requirements.
Our mission is to provide an approachable and affordable professional independent trustee service, putting this depth of knowledge at the disposal of pension schemes or employers, who wish to understand how best to deal with their scheme.

Nick Boyes - Director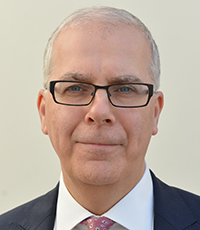 Tel: 07517 045890
Able Governance Ltd was established in 2014 by Nick Boyes, who has been immersed in the world of occupational pensions for over 25 years. A large portion of this time was spent with Alexander Forbes Trustee Services Ltd (AFTS), one of the UK's largest firms of independent trustees, where he worked for 22 years, 14 of which at Director level.
Nick represented AFTS on many trustee boards, where the schemes were either live and ongoing; closed to new entrants; or being wound up, restructured or merged; or being assessed for transition to FAS or PPF.
Many of these appointments would result from the need to give support to a board of trustees faced with an unfamiliar and challenging situation. The experience that Nick could bring to bear, and his ability to help steer a path through the negotiation process, resulted in the successful conclusion to many tricky situations.
Acting as a trustee to many defined benefit schemes where the principal employer was insolvent instilled in Nick a very pragmatic approach, with a heightened consciousness of cost control and the need to balance competing interests.
An important element of his role was responsibility for the continuing compliance of the pension schemes for which AFTS acted as trustee. This entailed establishing systems and procedures to ensure that these schemes are governed effectively and efficiently.
Nick has enjoyed being involved in industry-wide initiatives designed to raise the standard of pension scheme governance, and is proud to have assisted in the development of the highly regarded Trustee Toolkit.
To learn how Nick has been able to assist employers and trustee boards tackle tricky situations, see the pension scheme case studies.
Bikram Dhesi - Associate Director
Bikram joined Able Governance in August 2016 and brings with him over 20 years' professional experience of advising clients in occupational trust based and workplace pension schemes, and employee benefits. Before joining us Bikram was the principal of his own consultancy which he set up in 2014 after leaving Alexander Forbes Trustee Services. In his career Bikram has also held positions as a consultant and professional independent trustee providing services to corporates in the SME and larger plc market with number of his clients having an international sponsor.
At Able Governance Bikram is re-united with Nick Boyes with whom he worked at AFTS where Bikram represented the trust body as a professional independent trustee for 6 years. Prior to that he was lead pensions (and benefits) consultant for a large pan European IFA (AWD Group) providing technical and strategic planning advice to both trustee boards and employers, and was authorised to provide regulated investment advice to the company's clients. Another important aspect of Bikram's work has been with guiding employers and key employees on retirement planning relating to both DB and DC arrangements.
Bikram has previously served as a committee member of both the Pensions Management Institute Midlands Region Group and the NAPF East Midlands Group (now PLSA) serving for more than 5 years with both bodies.
Outside of work Bikram particularly enjoys watching live sport and is a season ticket holder at Leicester City FC where he has a seat in the kop end!